Aylesbury Vale survivor of brain tumour and kidney cancer offering French tuition and conversation in return for charity donations
A French native speaker from Cheddington who has survived both a brain tumour and kidney cancer is offering people the opportunity of tuition or conversation in French via Skype in return for donations to national charity Brain Tumour Research.
Friday, 14th August 2020, 12:59 pm
Updated
Friday, 14th August 2020, 1:00 pm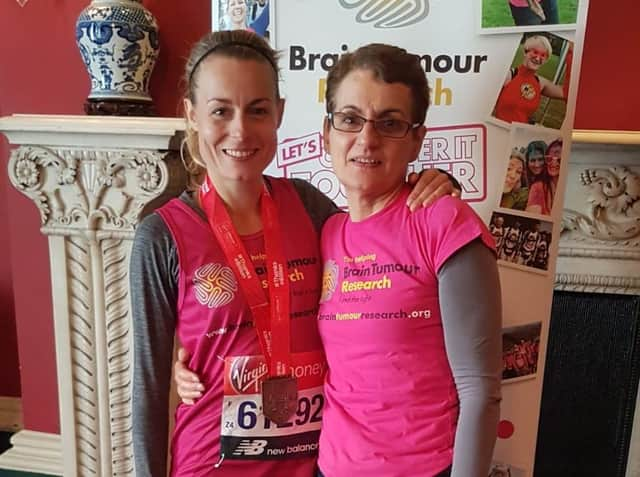 Francoise Shelton (right) with daughter Fenella who completed London Marathon 2019.
Francoise Shelton has helped people of all ages with their knowledge of French during the many years she has lived in the UK. She said: "Research into brain tumours is really important to me. I know that they can affect anyone at any age, but no one knows what causes them, yet research into brain tumours is so poorly underfunded.
"My life and the lives of my children were turned upside down when, after months of misdiagnosis, I was found to have a brain tumour in 2007 after suffering with personality changes. Luckily mine was low-grade and after surgery and 10 years of scans to monitor me for regrowth I have now been signed off. But I know that many people diagnosed with a brain tumour are not nearly so lucky as me and can be given a survival prognosis of just months or even weeks. In fact, I lost a dear friend to brain cancer the same year I was diagnosed.
"It was obviously a big shock having my brain tumour diagnosis, but then in 2014 I was diagnosed with kidney cancer and had to have one of my kidneys removed after I was found to have an enormous tumour, which was 10cm x 11cm in size. I now have regular scans to check the cancer hasn't metastasised anywhere else. Fortunately to date they have been clear.
"I want to do my bit to help this incredible charity and am offering to help people improve their spoken French or learning French generally. I am happy to help school children and adults alike and in the current climate of the coronavirus pandemic I can do this via Skype."
Brain tumours kill more children and adults under the age of 40 than any other cancer, yet historically just 1% of the national spend on cancer research has been allocated to this devastating disease.
Brain Tumour Research spokesman Hugh Adams said: "We are very grateful to Francoise for her continuing support and remember her first fundraising challenge back in 2011 when she took on a 10,000 feet freefall parachute jump raising more than £1,600.
"Some 16,000 people are diagnosed with a brain tumour every year, yet funding for research to find a cure does not receive parity with cancers such as breast, prostate or leukaemia."
Brain Tumour Research funds sustainable research at dedicated centres in the UK.
It also campaigns for the Government and the larger cancer charities to invest more in research into brain tumours in order to speed up new treatments for patients and, ultimately, to find a cure.
The charity is calling for a national annual spend of £35 million in order to improve survival rates and patient outcomes in line with other cancers such as breast cancer and leukaemia and is also campaigning for greater repurposing of drugs.
You can contact Francoise via Skype at Francoise.Shelton. Start your message with French 4 BTR.