Aylesbury United U9's raise £2500 for Stoke Mandeville Hospital Ward 8
A group of young footballers have taken part in several fundraisers for Stoke Mandeville hospital.
Thursday, 16th July 2020, 9:34 am
Updated
Thursday, 16th July 2020, 9:38 am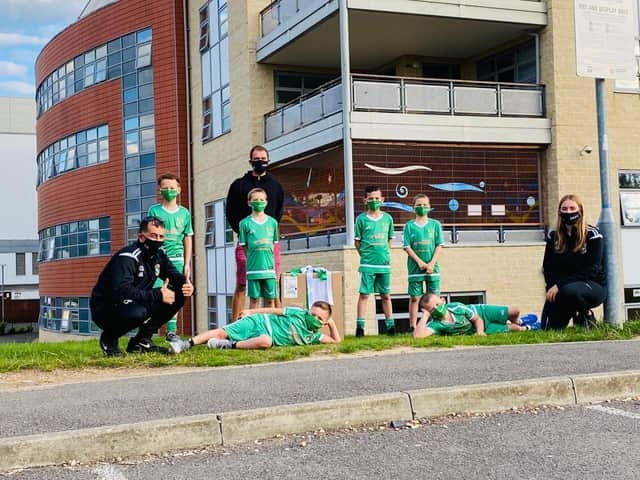 The team went to Stoke Mandeville to hand over the ECG machine last Friday
Keeping in touch in lockdown, the group of young footballers have been doing fun challenges, raffles, a sponsored head shave and much more to raise funds for the NHS.
One of the Aylesbury United mum's works as the sister on Stoke Mandeville Ward 8, which prodvides medicine for older people
They were in dire need of an ECG machine, as they were sharing their only one with another ward.
An electrocardiogram, or ECG, looks at your heart's rate, rhythm and electrical activity.
It is the only way of uncovering certain problems with the heart's electrical impulses.
There are a number of reasons why someone may have an ECG, including an irregular heartbeat, shortness of breath when they exert themselves, significantly high blood pressure, palpitations or a suspected heart valve problem.
The money raised has been spent on a brand new ECG machine for Ward 8, and the remaining £500 was spent on items from SM Hospital Staff's Amazon wishlist.
Danielle Moss, parent of Billy Moss-Hall who plays for United, said:
"The whole club is so happy that we've been able to give something back to the amazing people who work for the NHS.
"The fundraising has been a lot of fun, apart from when I got 'pied' for failing to score 3 penalties against my son! I think only one mum escaped!"
The club have been keeping in touch regularly, hosting weekly fitness sessions via zoom, and also having weekly bingo sessions.
Each family also host a quiz every week, writing and presenting their own questions to the squad.
Danielle continued: "Everyone's been chipping in with ideas, and all families have been putting together quizzes for the squad.
"It was nice during lockdown because whoever won the quiz, the players would deliver a little gift to them over the weekend."
The club are still fundraising, but are now hoping to put some money towards the club after players lost out on their end of season presentation and party.
"The players have missed out a lot this summer, and it would be nice if when this is all over they can have a party and a bit of a celebration.
"We're like a big football family. It's been amazing to see everyone come together and stick by each other during these difficult times."
The Aylesbury United Under 9's now return to training this weekend with all the relevant safety measures in place.