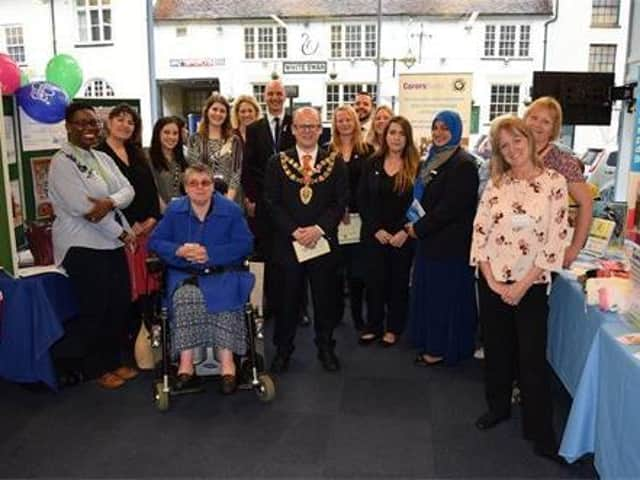 Group Photo Dementia Alliance Launch
To receive this accreditation, the Town Council was assessed on their dementia work within the community, which is led by Dementia Champion and Communities Officer,
The work the Town Council does continues to help people to connect with a condition that is likely to impact us all in our lifetime - personally or by association.
Reducing the stigma associated with dementia has always been a driving force within their work, and one conversation at a time, this is happening in Aylesbury town.
Having delivered over 95 sessions and leading to the creation of more than 2,500 Dementia Friends since 2016, the Town Council has received support and collaborated with local organisations and groups including: Waterside Theatre, Skipton Building Society, Aylesbury Market Traders, Aylesbury Library, Metro Bank, Bucks Museum, Friars Square and Hale Leys retail management, Thames Valley Police (Aylesbury), Vale of Aylesbury Housing and Aylesbury Waitrose.
By delivering information sessions to younger people in Aylesbury schools and colleges, Aylesbury Town Council has created 'new teachers' and advocates of the Dementia Friends initiative.
A Dementia Friend learns about what it's like to live with dementia and then turns that understanding into action.
The purpose of these sessions are to share five key messages to help people understand dementia better.
1) Dementia is not a natural part of ageing.
2) Dementia is caused by diseases of the brain.
3) Dementia is not just about losing your memory
4) It is possible to live well with dementia
5) There is more to the person than dementia
The Town Council also support groups and businesses who want to know how they can make positive changes to a person with dementia and the people who care for
them - from changing opening hours, to making signage clearer all of these small actions make a huge difference.
The Mayor of Aylesbury, Cllr Mike Smith, said: "Benedicta has been amazing in delivering our Dementia Friends sessions. She works tirelessly to connect with everyone she meets, whether she knows them or not, which has led to the successes we have today.
"As Town Mayor, along with all the Town Councillors, the Town Clerk and officers we have nothing but pride for her dedication and she has proved to be a great asset to our community work."
Find out more about how Aylesbury Town Council are creating dementia friendly communities on their website at https://bit.ly/DFAylesburyIf you or someone you know might need dementia support, please contact the Dementia Connect Support Line by calling 0333 150 3456 or visit www.alzheimers.org.uk/dementiaconnectfaq or for support for carers contact Carers Bucks on 0330 777 2722 or www.carersbucks.org.