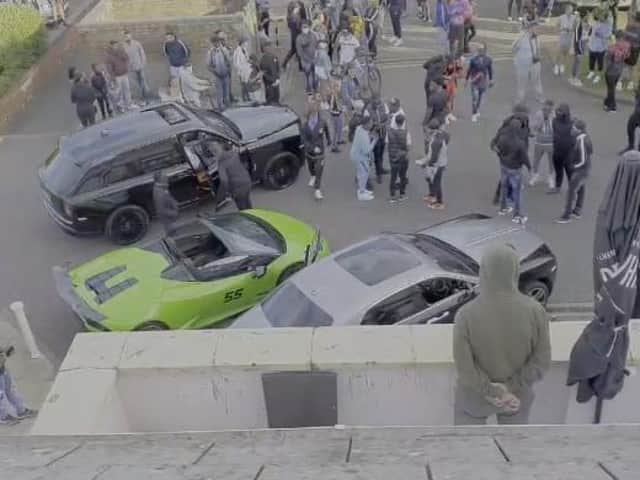 Crowds gathered at Buckingham Park
The rapper, named Sneakbo had invited people across Buckinghamshire to take part in his music video which was shot over the bank holiday weekend.
The initial plan seemed to be to shoot the video in Buckingham Park and a crowd quickly gathered, estimated to be more than 180 people.
Sneakbo, real name Agassi Babatunde Odusina had posted on his social media channels that fans should meet him at Jubillee Square at 4.30 on Friday May 22.
Residents are now worried that this may cause a spike in Coronavirus cases in Aylesbury
He was apparently working collaboratively with another artist who has links to Aylesbury.
The large gathering was quickly moved on from Buckingham Park by Thames Valley Police officers.
The group of bystanders and the rapper then resurfaced at Watermead much to the anger of local residents.
Residents estimate that close to 200 people arrived to participate in the video which caused traffic gridlock around the square.
The crowed gathered closely together in clear breach of the of the Coronavirus restrictions before moving around the footpaths of Buckingham Park.
This meant locals couldn't go to the shop for fear of coming into close contact with the large group of people from outside the area.
Many arrived five to a car and seemed to have travelled from outside the town to join in.
Sneakbo himself had driven up from London in a convoy of two Rolls Royce cars and a convertible Lamborghini for the event.
One resident writing to facebook condemned attendee's as 'a bunch of idiots'.
There were also accusations of attendees urinating in public places, and taking nitrous oxide balloons during the filming.
After leaving Buckingham Park the group went to Watermead where they continued to film their video. Following the event an angry argument broke out between residents and one of the groups mums as she launched a foul mouthed tirade against the residents who had complained.
There are concerns that the hundreds of people who attended might now cause an outbreak Coronavirus in Aylesbury.
Liberal Democrat Councillor Anders Christiensen said the move was 'hugely irresponsible'.
"This was completely irresponsible and showed a compete lack of respect for our community and the safety of the public and his fans.
"I would like to thank the police for acting quickly and moving them on. There are no polite words for this level of stupidity."