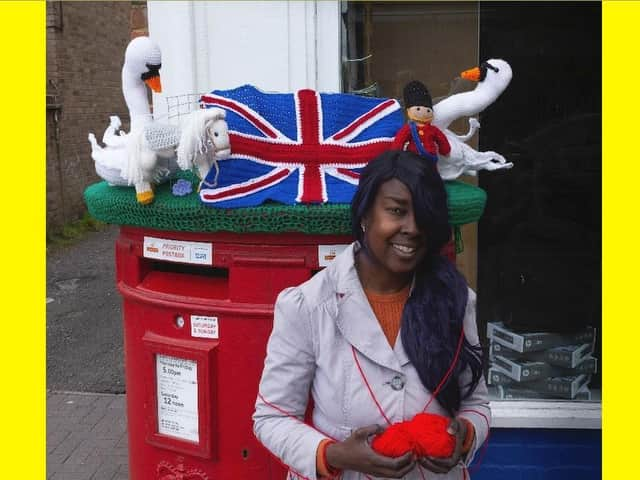 Anita Warburton
Brightly coloured knitted and crocheted art works started appearing on top of letter boxes across the country.
Adorned with knitted animals, nurses and even the Queen, they became an outlet for all sorts of people who were trying to deal with the pressures of lockdown.
Yarn bombing started in the US, but the letter box knitted toppers are unique to the UK. It's believed the letter box trend began in Southend in 2014 but it really took off during lockdown.
NHS carer and mother, Anita Warburton from Farnham Common, was diagnosed with stage 3 breast cancer in November 2020.
She's undergone a lumpectomy, had her lymph nodes removed and is undergoing chemotherapy.
She made her first post box topper in May 2020 to commemorate the 75th anniversary of VE day.
At the time she was home schooling her 10- and 12-year-old children, one who is autistic and the other who has ADHD
Everyone she says, was miserable, but the toppers made them smile.
"When the first lockdown happened I was at home with my two children who are 10 and 12.
I was home-schooling my son who is autistic and my daughter who has ADHD and everyone was really miserable, " she explained.
"Then I spotted a rainbow theme with people putting rainbows in their windows for the NHS so I decided to crochet one for our high street. I got a hula hoop and cut it in half and made a giant rainbow for outside Sainsbury's.
"I was nervous because I had never left any form of crochet out before – I've been crocheting for about eight years - but everyone loved it.
"It was around that time I spotted a postbox topper on Facebook and that inspired me to do one for our post office. My first one was to commemorate the 75th anniversary of VE Day in May 2020.
Anita says making the toppers is therapeutic and she's produced eight of them to date. She said, "It has been a hard year with lockdown and the diagnosis. I love doing toppers as it is so therapeutic.
"I have made about eight. They're fun and different and make people smile because you don't expect a postbox in a hat with things on top of it.
"This wouldn't have happened on this scale without lockdown but lockdown has made people want to cheer other people up."
Now Anita features in a book, being published (8th June) to mark the scheduled end of the third lockdown.
Author Belinda Goldsmith said the aim of Lockdown Letterboxes was to show how everyone's lives changed during lockdown, through the eyes of people who have used knitting needles and crochet hooks to cope with this unprecedented social turmoil.
"Without fail these knitted cosies make you smile in what has been such a difficult period for everyone and provided a real boost to many communities," she said.
"But it is the stories behind these woolly works of art that create a very British yarn."