New kids on the block as Stoke Mandeville goats go back to school
A trio of friendly goats from Stoke Mandeville have gone back to school, to help children with complex emotional needs as part of a special scheme.
Watch more of our videos on Shots! 
and live on Freeview channel 276
Visit Shots! now
Beech Lodge School in nearby Maidenhead teaches children, many of whom have had early years trauma, and who may ordinarily struggle in a traditional learning environment.
Outdoor learning is a big part of the school's approach, and as part of this Ben, Beth and Lulu the goats have become residents of the school, to the delight of children, their parents and staff.
As part of their school day the children care for the three goats, helping to muck them out, feed them and even take them for a walk around school grounds on a lead.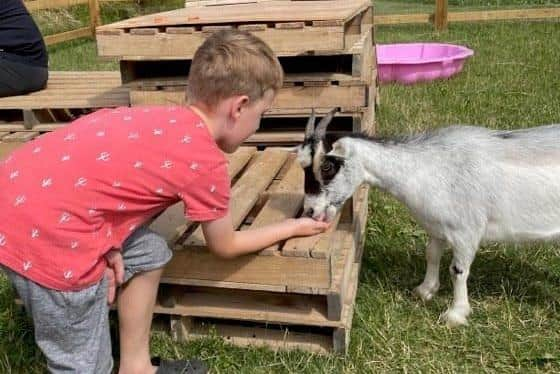 And the initiative, which is in partnership with Stoke Mandeville's Bucks Goat Centre, has been so successful, that the goats are set to become a permanent fixture, after a trial run before the summer holidays.
Becky Wells, outdoor learning teacher at Beech Lodge, said: "The goats have an enclosure on site, and the children are responsible for grooming and mucking out. It works really well on a therapeutic level, as some of our pupils have experienced early childhood trauma, by developing attachments with the goats it can be a good regulating tool, if the child is having a bad day.
"On site we have lots of space and all of our pupils love animals, so it has been a brilliant thing to introduce here."
The scheme began when school principal Lucy Barnes spoke to another school who had taken part in a similar scheme, and got in touch with the Bucks Goat Centre, who were only too happy to help.
At the weekends parents and pupils come back to the site on a rota basis to help care for the animals, and in the school holidays they return to the Bucks Goat Centre farm in Stoke Mandeville for a full health check and a holiday.
Ruth Higgins, who runs Bucks Goat Centre, said: "Our school schemes have been very popular and we love any initiative which gives young people the chance to interact with animals at an early age.
"Not every child has a pet at home, so schemes like this are educational in many ways, and open up conversations about empathy and love, as well as teaching responsibility."
Taking on the cheeky goats has been a learning curve for the school, and at first there were a few humorous teething problems.
Becky added: "They are all small goats, but one of them at the start was a bit of an escape artist, so that was a fun challenge. They all liked poking their heads through the holes in the fencing too.
"But Bucks Goat Centre has been so helpful with advice and support, and we feel really confident that as well as benefiting school life, the goats have a nice life too."
To find out more about adopting a goat at your school go to www.bucksgoatcentre.website