GCSE results 2023 - all the results as we get them from across Aylesbury Vale and beyond
The big day is here!
Watch more of our videos on Shots! 
and live on Freeview channel 276
Visit Shots! now
Our GCSE coverage starts here, we'll bring you all the GCSE results from across Aylesbury Vale and beyond for 2023 as we get them.
A school spokesperson said: "The Buckingham School is today celebrating some exceptional GCSE and BTEC results. This year GCSE examinations returned to pre-pandemic standards, with minimal alterations to papers, despite students facing significant disruption during their secondary school education. Our Year 11 students have exemplified The Buckingham School's Virtues throughout their studies; in particular 'Ambition' and 'Resilience'. It has been our absolute pleasure to celebrate these achievements with our students in person today. Well done to the class of 2023.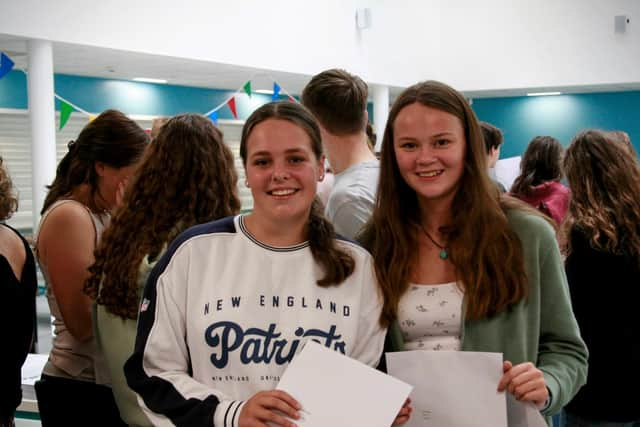 ● "50 per cent five GCSEs or more at Grade 4 or above, including English and Maths
● "24.8 per cent five GCSEs or more at Grade 5 or above, including English and Maths
"This year, our students have achieved eighteen Grade 9s, the highest grade achievable at GCSE.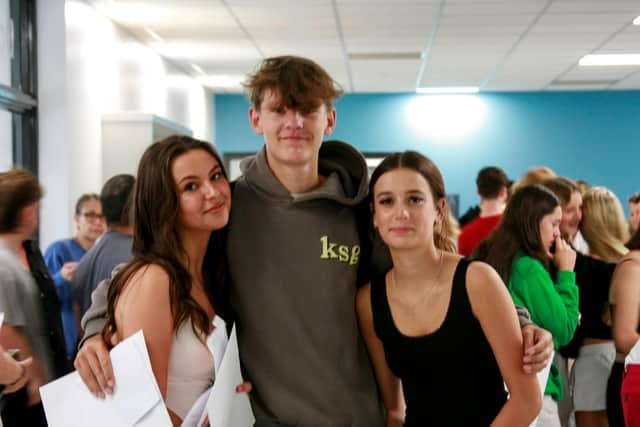 "There are many individual success stories amongst this cohort including:-
"Melanie Sefa who achieved nine GCSEs or equivalent, including a grade 9 in Biology, 9 in Chemistry, 9 in French, 8 in Computer Science
"Rowan Swallow who achieved nine GCSEs or equivalent, including a grade 9 in Biology, 9 in Chemistry, 8 in Computer Science, 8 in English, 8 in Mathematics and 8 in Physics
"Teagan Smith who achieved nine GCSEs or equivalent, including a grade 9/8 in Combined Science, Distinction* in BTEC Construction, 8 in English, 8 in Photography and 8 in Psychology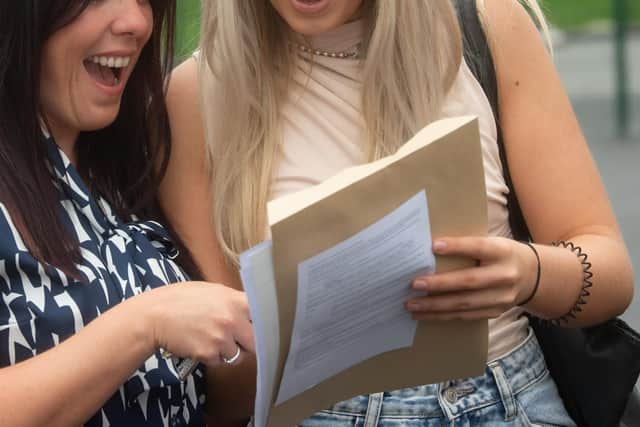 "Nimrah Athar who achieved nine GCSEs or equivalent, including a grade 9 in Art, 9 in Photography, 8 in Biology, 8 in English and 8 in English Literature
"Immi Hubbard who achieved nine GCSEs or equivalent, including a grade 9 in Biology, 9 in Business Studies, 9 in Psychology, 8 in Chemistry and 8 in English
"Sophie Martin who achieved nine GCSEs or equivalent, including a grade 9 Business Studies, 8/8 in Combined Science, 8 in English Literature, 8 in Physical Education and 8 in Mathematics
"Toby Carlyon-Smith who achieved nine GCSEs or equivalent, including a grade 9 in GCSE PE, 8 in Business Studies, 8 in English and 8 in Mathematics
"Hollie Barson who achieved nine GCSEs or equivalent, including a grade 9 in Mathematics, 8 in English and 8 in Psychology
"Poppy Brewster who achieved nine GCSEs or equivalent, including a grade 9 in History, 8 in Business Studies and 8 in English Literature"
Headteacher Andy McGinnes added: "We should celebrate the outstanding achievements of our incredible students in the class of 2023.
"Our students have achieved remarkable results in their GCSE and BTEC examinations. Their hard work and dedication, supported by our dedicated staff, have truly paid off. The vast majority of our students have excelled in their exams, and we couldn't be prouder of their accomplishments.
"I would like to extend my heartfelt congratulations to each and every student who has received their results. Your commitment to your studies and determination to succeed have been truly inspiring. These results are a testament to your perseverance and the support you have received from your teachers and families.
"Many of our students will be joining our flourishing Sixth Form, and we look forward to providing an enriching and supportive environment for our students as they continue their educational journey.
"To all our students, as you embark on the next chapter of your education, I wish you the best of luck. Whether you choose to pursue further studies, apprenticeships, or other pathways, I have no doubt that you will continue to thrive and make us proud.
"I would like to express my gratitude to the parents and guardians who have supported our students throughout their academic journey. Your unwavering encouragement and guidance have played a significant role in their success."
A school spokesperson said: "Aylesbury High School students received their GCSE grades today and well done on their absolutely outstanding results! Our students' 8 and 9 grades are 10 per cent higher than 2019, beating the national trend of returning to the 2019 levels. These are a result of their sustained hard work and effort, as well as the support they have received from our staff and from their parents, during and following a very challenging period. The students, whose important Years 7, 8 and 9 were affected by Covid, should be immensely proud; we are delighted for them."
Headmistress, Mrs Marieke Forster, added: "These grades are a result of their sustained hard work, as well as the excellent teaching and individual guidance our pupils received from our staff. Whilst acknowledging the significant disruption that this cohort and their peers across the country have experienced due to the pandemic, our students have shown independence, strength and confidence in their approach to this exam series. They should be very proud of their achievements and I send them my warmest congratulations. Well done Year 11 - #AHSWalksTall."
The spokesperson concluded: "As ever, we are most delighted at the options that these grades will create for our students, and we look forward to helping them in their next steps."
Tring Park School for the Performing Arts
"Overall, 58.1 per cent of students achieved grades A*-A, and 36.2 per cent attained grades 9-7, in comparison with the national average of 22 per cent grade 7/A and above.
"Subject areas including French, German, Music and Triple Science achieved a 100 per cent pass rate, demonstrating that a dual curriculum, with both academic and vocational study, can work in nurturing industrious and committed young people, dedicated to their learning. 97.7 per cent of students achieved a grade A*-C in English Language, and 93% attained 9-4 for Mathematics."
Imogen Niesyto, head of Middle School at Tring Park School for the Performing Arts, said: "We are incredibly proud of all our students for working so hard and achieving such excellent grades in their GCSEs again this year. We are impressed by their continuous effort and dedication to both their academic and vocational studies."
Stefan Anderson, the school's principal, added: "I would like to take the opportunity to give my thanks to the outstanding team of academic, vocational, and pastoral staff that have worked tirelessly to support and nurture our talented young people. These grades are a testament to their ongoing commitment and hard work."
Tring Park School for the Performing Arts adds that amongst the top achievers, six students achieved five or more 9-8/A* grades, and as an academically non-selective school, Tring Park School is equally proud of the many students who exceeded their Minimum Target Grades. A significant number of students will be staying on to study for up to three A levels at the Sixth Form, whilst continuing to develop their vocational talents through specialist training in the performing arts.
The school recently announced the retirement of its long-standing and accomplished principal, Stefan Anderson, following a distinguished 21-year career at the school, and it is pleased to announce the appointment of Simon Larter-Evans, effective from 1 September, 2023. Moving into the new academic year, the aim is to build on the already fantastic achievements the school has, from performing across all vocational disciplines to excellence in academics.
A school spokesperson said: "Congratulations to the 2023 Year 11 cohort on a fantastic set of GCSE outcomes.
"Amid a national backdrop of a return to tougher grade boundaries and a drop in top grades, the students have overcome not only the impact of the pandemic to their learning, but also the social implications. These unknowns have led to uncertainty and anxiety for many of the cohort.
"With resilience and effort, the students have achieved brilliantly, with a host of exceptional performances. Whatever the success, we are proud of them all and excited for the next stage in their education."
"Sixty-eight per cent of entries were graded 9-7 and 98.6% graded 9-4.
"Seventy-eight per cent of students received 5 or more 9-7 grades with 22 students receiving 100 per cent 9-7 grades.
"Exceptional performances from two students who achieved eleven grade 9s, three with ten grade 9s and a further five achieved nine grade 9s."
Headmaster Mark Sturgeon added: "These outcomes are a testament to the effort and application of this group of students. They have been a wonderful group to learn alongside and we are so very proud of all of them.
"The national media coverage has consistently identified a reduction in GCSE grades with a return to 2019 levels. To outperform the 2019 cohort is an outstanding accolade for this group of students.
"These outcomes will provide them all with a wonderful foundation for further study and we congratulate them, and their families and staff who have supported the students throughout the two years of GCSE study."
A spokesperson from Tring School said: "Tring School is delighted to announce an excellent set of GCSE results with outstanding performances in English and Maths plus many other subjects. This year the students sat exams and they coped remarkably well given the backdrop of disruption over the past few years.
Headteacher Sally Ambrose added: "Following what has been an incredibly difficult and challenging few years for everyone, we are thrilled for
our GCSE students who have achieved an excellent set of results.
"These results will support them with their next challenge, whether that is to join our outstanding Sixth Form, start an apprenticeship scheme, enter the workplace or continue their education elsewhere.
"Everyone associated with Tring School can be incredibly proud of these results and I'd like to express our appreciation to the students, staff, parents, governors and trustees."
Tring school adds: "The large majority of Tring School's GCSE students will move on to the school's outstanding Sixth Form which again reported excellent A-Level results last week. Tring School's Sixth Form typically attracts over 50 new students every year who join from other schools and we look forward to welcoming all new year 12s at the start of the new term in September."
Headteacher Jon Ryder said: "The staff and Governors of Lord Williams's School would like to congratulate the Year 11 Class of 2023 on achieving outstanding GCSE, BTEC and Cambridge National results. Seventy-three per cent of the students achieved 5 or more higher grades (9-4) including English and Mathematics, with 77 per cent achieving passes at grade 4 or above in both English and Mathematics.
"Whilst this year's exams took place as normal, for the first time since the pandemic, the students' results have been achieved despite the disruption that Covid was still causing during the first year of their GCSE courses. Many of our students have overcome considerable challenges over
the past few years of their schooling to achieve really impressive results, and we would like to pay tribute to the superb support they have received from their parents and carers as well as from school staff.
"The following students achieved seven or more full GCSE qualifications at grades 9, 8 or 7: Noah Abel, Maddie Ashby, Matthew Bailey, Emma Bayer, Eleanor Blest, Freddie Borgnis, Adam Bourlakis, Byron Bromley-Gans, Sophie Bryant, Milla Clouston Pile, Merle Cox, Elizabeth Craig, George Crosby, Emmie Davison, Archie Dutton, Sean Gerrish, Evie Gilbert, Isaac Godman, Emily Graydon, Rosie Harris, Zac Harris, Charlie Hussey, Costas Karteris, Rowena Kingston, Annie Lawrence, Emily Lunn, Daisy Neal, Ellie Oetzmann, Sophie Perry, Tiffany Pettiford, Aidan Pinnington, Katie Pollard, Bix Ponte, Toby Radbourne, Luke Rayfield, Grace Savage, Madeline Sawyer, Orin Searle, Rebekah Seed, Heather Slater, Phoebe Thomas, Lydia Wallace, Elizabeth
Watson, Katie Whale, Niamh Whitworth.
"The vast majority of our students will continue their studies at Lord Williams's and we look forward to supporting their development over the course of their Sixth Form careers. We wish every success to those who are leaving us to continue their studies elsewhere or to begin an apprenticeship."
Bucks Council offers guidance to students unsure of what to do after receiving their GCSE results
Bucks Council has provided guidance to students who may be unsure on what to do next after receiving their GCSE results today (24 August).
The council has posted a series of resources available to students who may be seeking guidance after not receiving the grades they expected.
Councillor Joseph Baum said: "Well done to all those students who have worked hard and got the results they wanted. We know that the effects of the pandemic are still impacting children and young people of all ages, so the achievements of those picking up their results today is testament to their resilience and they should be very proud.
"We know there may be some students who may not do as well as they hoped or expected but there is plenty of help and support available so make sure you speak to your school or college in the first instance, talk to friends or family, or go online.
"Completing your GCSEs is a huge achievement and we wish all our students well for whatever their next steps may be."
Bucks Council has recommended the following support channels:
-The Exam Results Helpline – 0800 100 900 – free advice from trained careers advisors
-Youth Employment – helpline and advice for GCSE and A-level students on next steps, apprenticeships, universities, starting their own business, gap years and employment
Post results service from exam boards:
Other advice provided by the council includes:
-Speak to teachers at school – both in an academic capacity and also as pastoral experts who can help with emotional issues.
-Some schools have an independent counsellor available with whom students can talk in confidence.
-Peer support networks –speaking to someone of a similar age can sometimes feel easier than speaking to an adult and can provide reassurance from someone who has recently been through the same experience.
-Charities – most now offer both online and telephone support. Speaking anonymously can make talking over problems and worries easier.
Government on this year's results
Education Secretary Gillian Keegan said: "Congratulations to everyone receiving their results. This cohort have shown tremendous resilience in recent years and should be proud of all the work they've done to reach this milestone."Grading is returning to normal which means a pupil who would have achieved a grade 4 before the pandemic, is just as likely to achieve that this year."Students now have more options to choose from than ever before - such as our high-quality T Levels, including legal and agriculture starting from this September. They can also take A levels or earn and learn on a wide range of apprenticeships, from journalism to accountancy."Whichever path students decide to take, they can have confidence it will set them up for a successful career. I wish everyone the very best as they move onto their next chapter."
Schools Minister, Nick Gibb added: "Pupils receiving their results today should feel very proud. I want to congratulate them all and give my thanks to the hardworking teaching staff that have helped them throughout this period.
"Today's results are a testament to this Government's longstanding work to drive up standards and expanding opportunities for all in our education system.
"Pupils collecting results today can progress to one of many high-quality options including A levels, T Levels and apprenticeships."