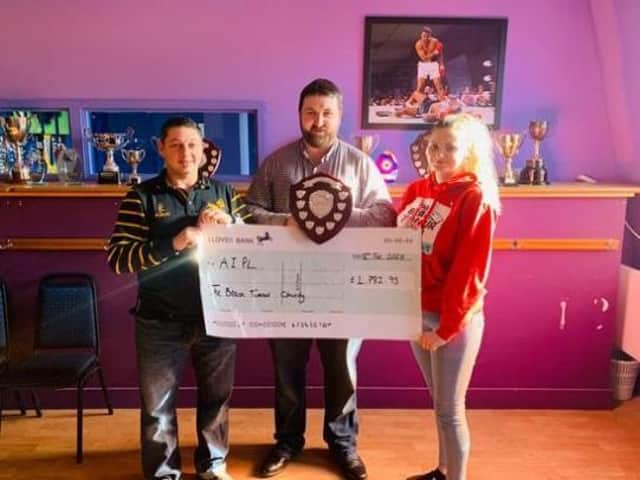 (from left to right) Aylesbury Invitational League Chairman Tony Festa, AIPL Internet/Social Media Officer James Connor and Rose Keene from The Brain Tumour Charity
In their annual charity fundraiser game, players from the Aylesbury Invitational Premier League faced off to raise money for The Brain Tumour Charity.
They raised a massive £1782.95.
The event has been going since 2015, each year raising money for causes close to the players hearts.
And this year was no different, as The Brain Tumour Charity had been selected as this years beneficiary after local pool player Peter Ward chose the charity, after his father - also named Peter Ward - tragically passed after a battle with a brain tumour back in May 2013.
AIPL League Chairman Tony Festa spoke to the Herald about the charity day.
He said: "It's something we've done every year and it's genuinely humbling to get such a great response from the league players who have donated.
"This year the final was played Pete's team, SP Blacks, against the league champions New Zealand B. SP Blacks won the Charity Shield after a match which was played in great spirit."
Tony added that the league couldn't be run without such a great group of local pubs.
"We've got a great group of local venues across Aylesbury that hold league matches, and we couldn't do what we do without their help.
"It's just nice that we can give something back to the community, especially when it's to causes close to local players hearts.
"I just want to take this opportunity to thank all the players, who made sure we had a great night and raised a great amount for a superb charity."
Rose Keene, press office for The Brain Tumour Charity came down to Shoot Pool and Snooker to thank Tony Festa and the league for putting on the fundraiser.
She said: "First of all, I'd just like to say thank you on behalf of everyone at the charity for the fundraising work you've done.
"It helps to fund everything we do.
"The funds raised by the club is enough to fund over 7 days of world class research into beating brain tumours.
"The Brain Tumour Charity is the world's leading brain tumour charity and the largest dedicated funder of research into brain tumours globally.
"Committed to saving and improving lives, they're moving further, faster to help every single person affected by a brain tumour. They're set on finding new treatments, offering the highest level of support and driving urgent change.
"It's days like this that help us to keep doing what we do.
AIPL Internet/Social Media Officer James Connor, who also organised the Shootpool charity tournament, also spoke to the Herald about the fundraising.
He said: "It's been a great year for fundraising this year. We've done two massively successful pool events, pulling in £900 at the Charity Shield and another £600 at the charity day, plus we had donations come in online from our JustGiving page.
"It's been our best ever fundraising total, so I'll be looking forward to what we can do next year for the next deserving charity."
James also added that these events couldn't work without the help of willing local venues.
"I would like to thank Rivets Sports & Social Club, and Shoot Pool & Snooker, for allowing us to run our events at their venues. Both venues did a great job of hosting us, and look forward to having more AIPL pool events there in the future"
If you are an aspiring pool player and would like to join a team in the Aylesbury Invitational Pool League, you can do so by dropping in to your local pub on a Wednesday night to see if they are part of the league. Or visit https://www.apacl.net/Pool/Association/AIPL to see the teams that are involved.