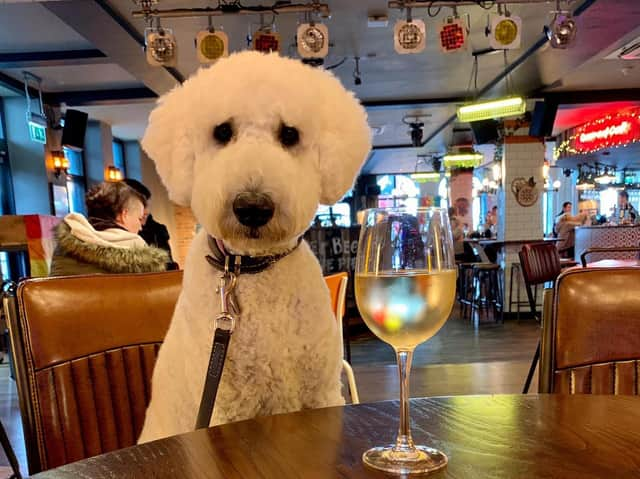 Nora having a well earned drink
I've lived in this area for nearly two decades, and have worked as a journalist here too for the vast majority of that time. You may have spotted me out and about at a community event, or may read one of my stories in your local newspaper.
Nowadays I run The Animal News Agency, an animals-only news and PR service which was inspired by all the wonderful animal antics which I spotted on my local news beat.
From the world's oldest cat, to sad animal cruelty cases, in our locality we really love animals, and animal news is always popular with readers.
In each of my columns I'm going to share tips, news and views on all things pets, nature and the animal world in general, and I hope that you will get in touch if you have a story that you think I should be writing about?
NEW ARRIVALS AND SAD DEPARTURES AT THE BUCKS GOAT CENTRE:
It's been a hard time for The Bucks Goat Centre, but there has also been a little bit of joy along the way.
Earlier this year owner Ruth Gaisford and the team bid a sad farewell to one of the stars of the farm, Bentley the goat who after a long and happy life passed away in February. Anyone who has ever visited the Layby Farm attraction will remember super sociable brown and white Bentley, who was always first to hop up and snaffle any kibbles being offered by punters. He will be sadly missed.
The pandemic has been a struggle for the centre, with the stop start nature of the lockdowns playing havoc with openings and cash flow, as well as dreaded HS2 works all around the Stoke Mandeville area.
But this hasn't stopped happy times, and new Nigerian Dwarf goat arrivals Tilly and Diablo recently arrived on site, excited to have a new happy life with the other friendly animals.
And another goat who has firmly fallen on his hooves is ten week old Boer goat Imbuzi, who almost ended up being slaughtered for meat!
But head keep Anthony Hearn stepped in and now Imbuzi (Zulu for goat and so named as a tribute to Anthony's grandmother's African heritage) will spend his days surrounded by love.
More happy news too! From this week, with pandemic restrictions eased, the café at the farm is now open again for takeaway, and you can book a visit from a Goat to your Garden once more.
Many of us have brought home a new puppy, or older rescue dog this year.
A canine companion for many has been the perfect friend during the long pandemic months, and going out walking wouldn't be the same without a wagging tail and a happy face for company.
He's not a lockdown puppy, but as a home worker I don't know what I would have done without our little Lemmy (pictured) for company.
But the world of pet food, and knowing what to feed your beloved dog to ensure a long and happy life can be a minefield, with more choice than ever before.
The first dedicated dog food came on to the UK market in 1870 in the form of Spratts Dog Cakes, pioneered by entrepreneur of the time James Spratt, who had up until that point worked as an electrician.
Made of vegetables, beetroot, and wheat and beef blood and then baked they were a big hit with dogs and pet owners alike.
That same year James Spratt took his 'dog cakes' back to America and the American Pet Food Industry was also born.
Dog food is a money spinner for many companies, and with so many brands competing for your custom with promises of health and wellbeing it is hard to know what to do for the best.
So step in Lisa Hannaby, respected canine nutrition consultant and expert who has literally written the book on all things dog food.
Lisa has recently worked with Ofqual regulated course provider The iPET Network on their bespoke Canine Nutrition course, which is the go-to course for pet businesses throughout the UK.
And Lisa has provided this handy an impartial guide to the main kind of dog food, so that you can make an informed decision about what is best for your pup.
Dogs have a dietary requirement for protein and fat.
Protein to build and repair cells, fat to provide energy, insulation and to act as signalling molecules.
They also have a requirement for a range of micronutrients known as vitamins and minerals.
There is no current known dietary requirement for carbohydrate in dogs.
Just as it says on the tin, cooked food is a meal which undergoes some form of heating.
There are a range of commercially available cooked products and some that are available to serve cooked or raw.
But cooked also includes home-cooked, and this can too be based on formulated recipes to meet FEDIAF guidelines.
Cooked food cannot include bone.
Cooked bones can splinter and pose a risk, and so in these recipes the mineral compounds usually found in bone, are supplemented in other ways. Cooked diets can be particularly useful for fussy eaters as cooking alters the aroma and taste of the food.
Some dogs can be very sensitive to smells and texture and size of how food is cut up.
Also, as cooking starts to break down certain fibres, it can be easier for some dogs to digest.
This is often why cooked diets are used in gut healing plans.
Equally cooking food can be better suited to dogs with kidney and liver issues or disease.
All wet meat pet foods, no matter the presented packaging have to be cooked to a minimum temperature of 121c, in order to sterilize the food and present it for sale.
Canned or Foil tray pet foods
These are typically cereal & meat meal mixes, although some tins or cans are solely meat meal based. They usually include some plant matter in addition. They are filled in a raw state, sealed and steamed to 121c for many hours.
White Tray Sleeve packed or Tetra packed pet foods.
These foods often contain meat and vegetables with rice as an additional grain or are solely meat meal mixes.
Dried fresh meat is also often used in these pet foods.
This is blended first into a uniform mixture with the vegetables using heat.
The trays are then filled, sealed and cooked to 121c for the requirement of hours. It is typical for these foods to be heat processed twice, rather than the once for than tins or cans.
Many pet foods are now considering the environmental impact of packaging and so have switched to using unique packaging such as the Tetra-pack.
These contain the same recipes, and follow the same sterilisation requirements but offer new packaging options.
Dry food, cold-pressed food and the extrusion process
Dry food is made either by the process of baking or extruding. The extrusion process allowed for mass production, which has played a big part in the formation of the pet food industry as it is today.
The extrusion process step by step:
1. Ingredients are weighed and mixed together
2. Water and steam are added to the mixture to create a 'dough'
3. The dough enters the extruder (a large cylindrical barrel) where it is exposed to high pressure and heat (up to and sometimes higher than 150 degrees), which cooks it.
4. The cooked dough is pushed through a die plate that cuts the dough into designed shapes and sizes.
5. This cut kibble is still soft and spongy so it goes through a drier (sometimes at temperatures as high as 200 degrees) to remove moisture
6. Most are then coated with fats to increase palatability.
7. The final kibble are cooled and packaged
The excessively high temperatures used in the extrusion process cause issues. Proteins can become 'denatured' fatty acids are lost, vitamins are degraded and all of this does affect the nutritional availability to the dog.
Advances are being made in the extrusion process in light of this.
Some manufacturers are using more modern extruders, which work at lower temperatures (usually around 90 degrees) leaving more of the natural nutrients available to the pet. This is called cold-pressed food.
Raw feeding is just that! It is when you feed meat, fat, bones etc in their raw state to your pet.
Within raw feeding there are a number of approaches.
You may come across phrases like BARF which stands for biologically appropriate raw feeding, or RMB which stands for raw meaty bones.
You may also come across PMR which is prey model raw and more will no doubt appear over the coming years.
The biggest concern around raw feeding is contamination and so, we must practice appropriate handling techniques when handling any raw meat.
The more recent development is around antimicrobial resistance.
Whilst raw food poses a risk, so does the inappropriate use of antibiotics, excessive use of disinfectants and sanitisers, livestock rearing techniques and pesticide use along with many more.
Feeding a raw diet has been associated with a range of improvements and health benefits in dogs such as improved digestibility, a more diverse microbiome, and it has also been associated with altered immune cell gene expression.
It can be a minefield trying to find the right food for your dog, but whichever food you choose, you just need to ensure it meets their nutritional requirements and you know why you are feeding it. Always read the label.
The iPet Network Level 3 Diploma in Canine Nutrition explores the nutritional needs of the canine, it is evidence-based and provides the foundations of understanding exactly what dogs need to thrive.
On the subject of canine nutrition, as part of my Animal News Agency work I had a very funny meeting over Zoom a little while ago. It was with Nora, the pub-loving Labradoodle, who is the face and attitude of www.boneidol.co.uk 's dog food brand Nora Nose Best.
She's brilliant, and kept my attention throughout the interview, which you may have spotted in some national newspapers!