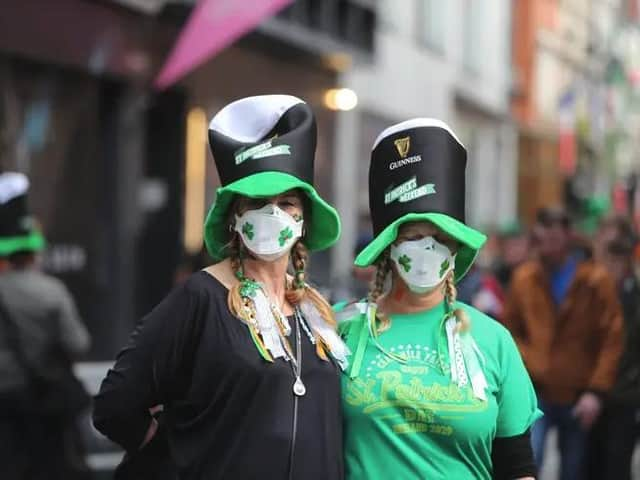 St Patrick's Day celebrations affected for second year in a row for Aylesbury Vale's Irish residents
Charity Irish in Britain said the March 17 celebration, which will take place without much of the usual festivities, is still an opportunity for everyone to honour the values of kinship and community.
The organisation's analysis of 2011 census data shows there were 1,299 people in Aylesbury Vale who were born in the Republic of Ireland – and a further 769 from Northern Ireland.
This means people from the island of Ireland made up around 12 in every 1,000 residents in the area at the last official count – above the England average of 11.
The London borough of Islington had Britain's highest rate of people born in Ireland and Northern Ireland, at 35 in every 1,000.
But the same was true for just three out of 1,000 residents of Blaenau Gwent in Wales.
Brian Dalton, chief executive of Irish in Britain, said: "This year's celebrations have made us seek new ways to stay in touch and honour the values of kinship and community.
"If there is any learning for us through such a difficult year it is how we relate and take care of each other, Irish or not.
"To friends, colleagues and Irish people wherever they may be, "Lá Fhéile Pádraig sona duit (Happy St Patrick's Day)."
However, Mr Dalton said the Irish community's profile was evolving, and recent estimates suggest the number of people in England and Wales who were born in the Republic of Ireland has fallen since the 2011 census.
He urged all those of Irish heritage to participate in the 2021 census, which takes place on Sunday, March 21, to ensure a more accurate picture of the Irish community in Britain today.
Irish heritage can also be recorded through national identity, passports held and ethnicity – with 1,573 people in Aylesbury Vale identifying as White-Irish at the time of the last census.
St Patrick's Day, which marks the anniversary of the death of Ireland's patron saint, is also typically celebrated by millions of people across the world who cannot trace their roots back to the country.
Prime Minister Boris Johnson urged people to reduce non-essential contact just one day before last year's festival, meaning many events were curtailed or cancelled altogether – with even stricter restrictions in place this year.
The annual event has long been regarded as one of the busiest days of the year for the hospitality industry.
The British Beer and Pub Association estimates that pub closures under current lockdown restrictions will cost £54 million in lost beer sales alone this year.
Emma McClarkin, chief executive of the trade association, said: "Hundreds of thousands of pub goers, if not millions, across the UK will be devastated they cannot enjoy a cold one at their local.
"It is a real disappointment for our pubs too, who will miss out on what would've been a big boost to their trade and at a much-needed time too."