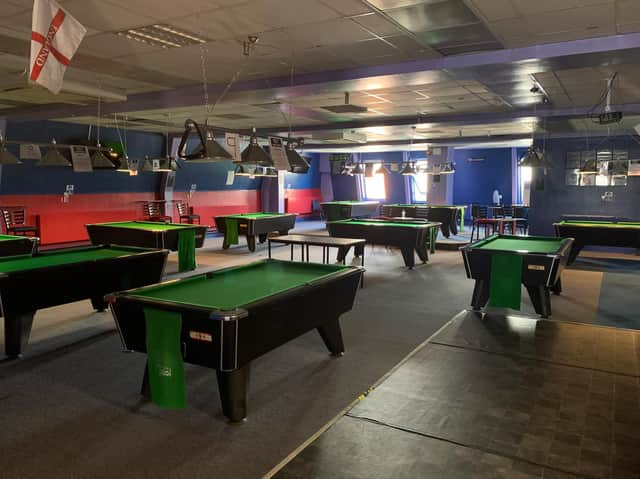 Shoot Pool and Snooker has re-opened!
Snooker is a hobby shared by many people throughout the UK but clubs were forced to close due to the coronavirus outbreak.
However, as the government eased lockdown restrictions, there was some confusion about whether snooker clubs could reopen from July 4.
But after making several changes to how the club operates, Shootpool and Snooker is now open to the public.
Fancy yourself as a bit of a Ronnie O'Sullivan?
Owner Sus Latham explains the changes they have had to make to ensure the public stay safe.
She said: "First of all, we are so excited to welcome everyone back to the club.
"We've now put up hand sanitiser stations all over the club, and each table will be sanitised after players leave, including the balls and surrounding areas.
"We have also introduced an online booking system to ensure we can maintain social distancing protocols. We are now limited to four players per table to ensure everyone stays safe.
"We can't wait to see everyone again, we have missed you!"
Shootpool and Snooker is home to the snooker professional Martin O'Donnell, who is currently ranked 34 in the world.
In 2017, he won the Italian Snooker Open.
Bookings are available for snooker tables, pool tables and a private pool room which is available to rent for £10 an hour.
The private pool room can accommodate up to 30 people.
On Saturday nights the club runs a round robin competition called Big League, where people can enter and play in a weekly tournament run by member James Connor.
The competition starts at 7pm on Saturday nights, and the entry fee is £10.
To enter the competition, players must register on the app.
The tournament is played according to EBPF Blackball rules.
Tables are currently restricted to four people to adhere to coronavirus legislation and capacity is capped to ensure compliance to the new rules.