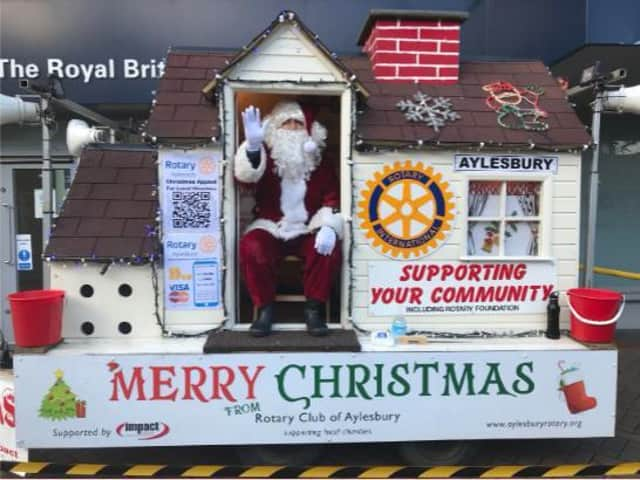 Rotary Club of Aylesbury Gives Thousands to Local Charities
The Rotary Club of Aylesbury was able to complete a full programme of Santa Float duties this December before the town and surrounding villages were plunged into Tier 4 Covid 19 restrictions at short notice, just before Christmas.
They have now distributed the money to over a dozen local charities including local foodbanks.
For two weeks Santa and his elves toured the town almost every evening and were also on the High Street for two Saturdays giving local children of all ages a chance to exchange seasonal greetings with him.
Our on-line tracker meant that hundreds of families were ready waiting in their gardens, or socially distanced on the corner of the street to welcome Father Christmas as he went by.
Heads of local junior schools played their part too and e-mailed parents to let them know when to expect the carol float; even those schools who were unfortunately closed at the time because of the virus helped out.
The incredible people of Aylesbury donated in their thousands and almost £9,000 has been collected.
This is significantly more than in recent years and so it's been agreed that the extra cash should go to local foodbanks, since this is an exceptionally busy time for them, with so many individuals and families in need.
Other charities who received grants are: Lindengate, The Gateway Club, Heart of Bucks, ScannAppeal, The National Paralympic Heritage Trust, Wheelpower, Medical Detection Dogs, several Scout and Guides groups and local branches of The Alzheimer's Society and Motor Neurone Disease.
A spokesman for the Rotary Club said , "The time-consuming extra precautions needed this year ranging from risk assessments, to sanitizing protocols, face masks and visors, to anti viral sprays and daily laundry of Santa's outfit, were well worth the effort. We'd like to take this opportunity to say a big thank you to all the drivers, collectors and others who helped us out, as well as the public for their tremendous support and wish everyone in the area a very Happy New Year.