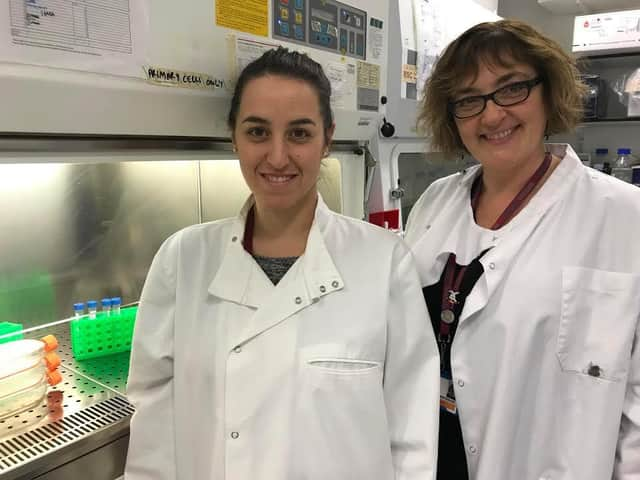 Sara Badodi and Prof Silvia Marino
He is backing a petition calling for increased investment to help find a cure for the devastating disease.
Ollie Gardiner passed away, aged 13, having first been diagnosed with a medulloblastoma brain tumour, aged 10. He underwent a number of craniotomies, as well as chemotherapy and radiotherapy. The family thought he had beaten the disease, but a routine MRI scan revealed the tumour had returned and had spread throughout his brain and spine.
Ollie's parents, Jane and Peter, of Aston Clinton in Buckinghamshire launched an appeal and the whole community got behind them, resulting in Ollie's Fund raising nearly £500,000. Despite further chemotherapy, as well as pioneering treatment at Harley Street and experimental immunotherapy treatment in Germany, both funded by donations to the fund, nothing could be done to save Ollie and he passed away on 19 November 2017.
Peter, 52, said: "I am still incredibly confused and feel massive guilt that I was unable to find a treatment for Ollie that could save him. I look at other children who survived medulloblastoma, when Ollie didn't. My son was killed so quickly by the brain tumour. I feel abandoned and angry that there was nothing more available to Ollie on the NHS.
"Life has been completely surreal ever since Ollie was diagnosed. Our whole world fell apart then.
"It's weird how things move on, but when it comes to us the clock has stopped. Ollie's bedroom remains untouched. And yet his younger brother Theo is now a year older than Ollie ever got to be and is growing up to be a man – already taller than Jane. I look at Ollie's trousers draped over the chair in his room and think they look so tiny."
Last year on 19 November, the second anniversary, Jane and Peter donated £187,500 to fund a researcher at the charity Brain Tumour Research's Centre of Excellence at Queen Mary University of London (QMUL) – poignantly the university from which Peter graduated.
The donation in Ollie's memory is funding Dr Sara Badodi, a postdoctoral research assistant working with in a team of researchers developing new treatment strategies to inhibit the progression of aggressive medulloblastoma, the most common aggressive childhood brain tumour.
Professor Silvia Marino, lead researcher at QMUL said: "A better understanding of the molecular changes that contribute to medulloblastoma is vital for developing new targeted therapies for this type of brain tumour.
"Dr Badodi is making excellent progress towards a long-term goal of translating research on two proteins (BMI1 and ERK) which could be important targets for potential new therapies into new clinical trials for patients with a poor prognosis.
"Her ongoing work is sponsored by a grant made from the Ollie Gardiner Fund and is particularly welcome because historically the retention of gifted scientists in the brain tumour research arena has been a challenge because of poor funding."
Peter and Jane are working with the charity Brain Tumour Research to share Ollie's story in order to help raise awareness of the disease which kills more children and adults under the age of 40 than any other cancer. They are supporting the charity's petition calling on the Government and larger cancer charities to increase national investment to £35 million a year to give parity of funding with other cancers such as breast, prostate and leukaemia.
Peter Gardiner, added: "Knowing that Ollie's legacy is helping push forward the search for a brain tumour cure is some comfort. There is still so much to learn and understand about this devastating disease, but the research is so poorly funded.
"Please sign Brain Tumour Research's petition calling for increased investment to help find a cure."
Sue Farrington Smith MBE, chief executive for Brain Tumour Research, said: "Losing a child to a brain tumour is devastating; you never get over it. I know a little of what the family are going through, having lost my sister's little girl Alison Phelan to a brain tumour just three weeks before her eighth birthday. As a family we were shocked at the lack of awareness and horrified to discover how little research was going into brain tumours and were determined to change this.
"Brain Tumour Research is indebted to the Gardiner family for their incredible support in funding the fight against brain tumours. Together we will make Ollie's light shine even brighter."
Brain Tumour Research funds sustainable research at dedicated centres in the UK. It also campaigns for the Government and the larger cancer charities to invest more in research into brain tumours in order to speed up new treatments for patients and, ultimately, to find a cure. The charity is calling for a national annual spend of £35 million in order to improve survival rates and patient outcomes in line with other cancers such as breast cancer and leukaemia and is also campaigning for greater repurposing of drugs.