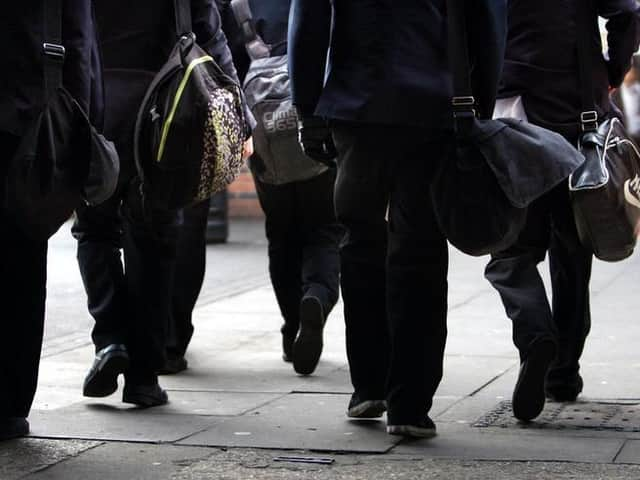 New A-level grading sees Buckinghamshire students ranked among the highest in the country
Exams were cancelled amid the coronavirus pandemic and, following a U-turn, students were given a choice of their predicted grades or ones calculated by an algorithm.
But the Sutton Trust said the regional inequalities seen in the marks suggests that pupils may have been disadvantaged by their postcode, calling the issue the "new frontier" of inequality.
Department for Education figures show 3,328 students in Buckinghamshire took A-levels in 2019-20 – with 33% receiving three A* or A grades, 46% AAB or better and 94% at least two A-levels.
The proportion getting A*-As was much higher than the 21% of pupils who achieved the same result under normal circumstances the year before, putting the area among the highest of all local authorities in England.
But the gap between Buckinghamshire and the best performing part of England, Reading, has grown from 9 percentage points in 2018-19 to 12 this summer.
Excluding Knowsley, which has just a few A-level students, the divide between the highest and lowest ranked areas across England rose from 28 percentage points in 2018-19 to 37 in 2019-20.
Thousands of A-level students originally had their results downgraded by an algorithm on results day, before Ofqual allowed them to use whichever mark was higher – their school's prediction or the calculated grade.
Before the U-turn, private schools saw a bigger increase in top A-level marks prompting sector leaders to suggest they may have benefited under the model from smaller class sizes.
But the new figures show private schools still saw a much larger rise in the best grades (11%) than state schools (6%), and sixth form and other further education colleges (4%).
Loic Menzies, chief executive of the Centre for Education and Youth, said: "The summer's exam chaos came on top of a lockdown that played out very differently for young people, depending on where they lived and how well off their parents were.
"It is therefore deeply worrying – but unfortunately unsurprising, that this has played out in regional inequalities when it comes to exam results – despite the Government's stated commitment to 'levelling up'."
In Buckinghamshire, 46% of children achieved grades of AAB or better in the most recent academic year – up from 32% the year before.
But the gap to Reading, which was again the top area in this measure, grew from 6 to 11 percentage points.
The Sutton Trust said the new data furthers their concerns that high-attaining, lower income students lost out the most.
James Turner, chief executive of the charity, said: "It is also troubling to see a big increase in the regional divide for top grades, suggesting that pupils may have been disadvantaged by their postcode. This regional disparity is fast becoming the new frontier of educational inequality.
"It is imperative we avoid a similar situation this year. Contingency plans should be in place if exams can't go ahead in the summer, including ongoing assessment through coursework, or benchmarked assessments set by exam boards in the place of mock exams, which are too inconsistent to be reliable.
"And more than ever in this time of upheaval, universities need to make offers to students that reflect the very different challenges they have faced."
A DfE spokesman said: "Exams are important in judging a pupil's performance and this data reflects the unprecedented circumstances faced this year. That is why Ofqual and the Government agree that exams should go ahead next year.
"Exams give all pupils the best possible opportunity to demonstrate their ability and achieve the results they deserve, no matter what their background."