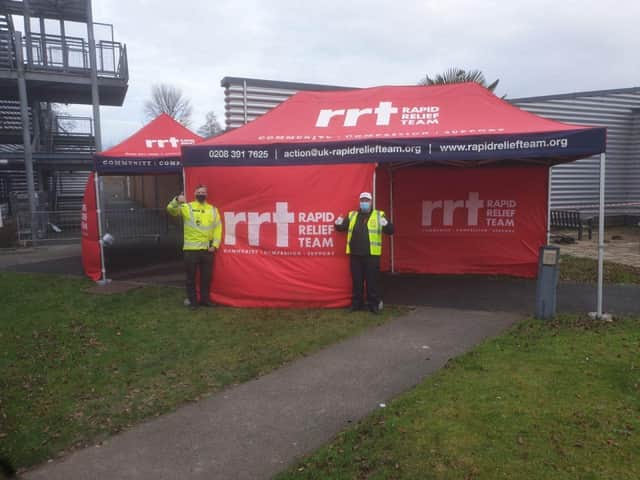 RRT Luton at the Stoke Mandeville vaccine centre
On Monday morning, the Rapid Relief Team dropped off the marquees to the local fire brigade and they were erected on Wednesday. The vaccination centre was set up over the weekend, with the support of volunteers from Poplar Grove, Oakfield, Weston Grove and Haddenham GP practices.
The Rapid Relief Team in Luton has a long history of supporting frontline services in and around Buckinghamshire, Bedfordshire and Hertfordshire. Before the COVID-19 pandemic made such occasions impossible, the team regularly provided refreshments to visitors to Bedfordshire Fire Service's open days, supporting them at their stations in Dunstable, Leighton Buzzard and Stopsley.
As well as supporting the emergency services, the team also provides emergency relief to those in need in the area. In April 2020, the team donated 100 food boxes to those in need at schools in Houghton Regis and Eaton Bray. More recently in June, the team also donated and organised the delivery of over fourty hygiene packs to NOAH, a Luton-based charity working across Bedfordshire offering hope and support to people struggling against homelessness and exclusion.
Damon Cantley, team leader at the Rapid Relief Team Luton, said:
"We were so pleased to be able to offer these marquees to the hospital, and we are grateful to the fire brigade for their work in putting them up. We want to make sure that those receiving vaccines can stay safe from the rain in a COVID-secure manner, and we hope these marquees allow this.
"Community, compassion and support are the three pillars on which we base our work, and we always enjoy working with frontline services to help provide support when it is needed."
Rod Buckley, Director at the Rapid Relief Team UK, added:
"The vaccine offers a beacon of hope to millions of people across the UK, and we are proud to have been able to support, in our own small way, the efforts of frontline workers in facilitating a safe and comfortable vaccination experience for the public."