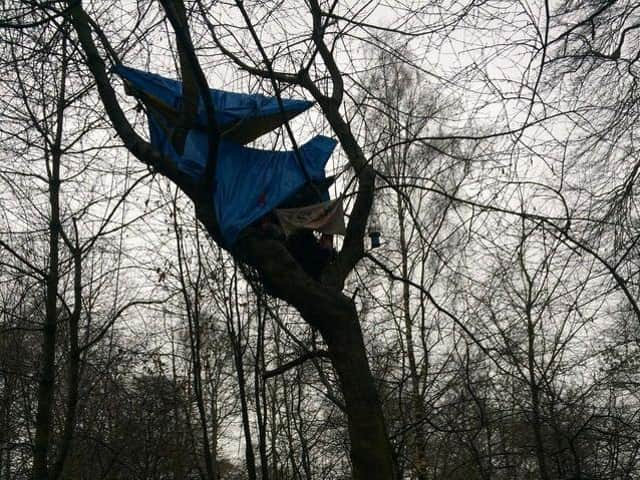 The camps were set up back in March
As of Tuesday morning eight activists have vowed to continue staying in trees despite building pressure from the National Eviction Team, dwindling resources and the after-affects of the heavy and persistent rain over the last five days.
There have been 11 arrests at Jones' Hill Wood, near Wendover, over the last four days.
Protesters at the site claim they have seen 'a large show of force' and have even alleged 'violence' from HS2 employees.
HS2 allege protesters have thrown human faeces at their contractors
But HS2 contractors have said they have been subject to their own violence from protesters.
Contractors claim protesters have been throwing paint pots, tins of soup, smoke bombs, bird scaring rockets, rocks and even urine and faeces at them.
However protesters retorted that some of the situations caused by the National Enforcement Team have created 'dangerous and life threatening situations'.
This includes one alleged incident where a it is being claimed a female activist's rope was cut whilst she was attached between two trees at approximately 60ft in the air.
The protesters allege she fell 10ft before landing in a cherry picker. There are further claims that she was then 'violently restrained' before being arrested on an allegation of assault.
Despite the ongoing incidents a growing number of campaigners have been joining the protests at Jones's Hill Wood.
In response a spokesman for HS2 said: "HS2 workers and High Court Enforcement Officers have carried out evictions with complete professionalism in the face of extreme intimidation and criminal behaviour."
One National Enforcement Officer has been injured and treated by paramedics.
The group who have been occupying Jones's Hill Wood have declared part of their intention is to highlight the loss of habitat, and what they claim is 'irreversible damage being done by HS2' across the line.
HS2 will be faced with another legal challenge from 'Lawyers for Nature', who through collaborative work with campaigners on the ground have identified rare Barbestrelle bats roosting in Jones's Hill Wood.
Yesterday, Lawyers for Nature released the following statement:
"The scenes of destruction as HS2 begin to start felling woodlands along the route are heartbreaking.
"Over the last 24 hours, we've been working with independent ecologists who have recorded evidence of rare barbastelle bats in Jones's Hill woods near Wendover.
"Further enquiries suggest that HS2 does not have a license from Natural England to disturb bats at the site, or to damage or destroy their roosts. Therefore, prima facie, it would spread that further work and/or felling at Jones Hill is illegal.
"We have helped to draft letters to both Natural England and HS2 pointing out the legal position and requesting that works at the site are halted pending further investigation into the existence of bats and bat roosts at the woods.
"We hope that HS2 will respect and obey the law and that, if not, Natural England will enforce it. If not, however, we need to bring public pressure to bear to stop wildlife crimes being committed by way of the destruction of this woodland."
Protesters who spoke to The Herald, said despite the arrests, spirits are high amongst the tree protectors, who 'remain resolved' to stay in their tree top home.
They added: "This is our last opportunity to press pause before it is too late and irreversible damage is done to the ecosystem and landscape."
Councillor Steve Masters, who has already been removed from the land but has managed to return and climb a 60ft Beech tree this morning said: "I am a public official and I have followed a path of public service throughout my life. This began 34 years ago when I joined the Royal Air Force. I swore to protect my fellow citizens then, and I do so again now, as we face our greatest challenge: climate change.
"I am duty bound to continue to protect the people of this country and the world. I am willing to be arrested and ultimately imprisoned in order to highlight the catastrophic damage HS2 will do to our natural environment.
"Our Prime Minister pledged to protect the biodiversity of the planet while at the same time continuing to support this destructive and unnecessary rail link. As the chainsaws whine around me this morning I am resolute and determined to fight for a future fit for my grandchildren."
HS2 contractors however have countered almost all of the claims being made. An HS2 spokesperson added: "We respect people's right to peaceful protest, but it is extremely dangerous when activists unlawfully trespass on live construction sites, lock themselves onto machinery and position themselves precariously in trees.
"The actions of these trespassers, many of whom are breaching their bail conditions, is unlawful and violent – they have been throwing paint pots, tins of soup, smoke bombs, bird scaring rockets, rocks, urine and faeces at the eviction team, causing a dangerous situation for everyone involved.
"Paint has also been thrown over the woodland floor, damaging the environment and destroying the soil that HS2 was planning to translocate.
"HS2 is already playing a pivotal role in helping Britain's economic recovery as the country emerges from lockdown. There are 10,000 people already working on the project and we recently announced a further 22,000 jobs across the country at a time when it needs them most.
"Only 0.29 square kilometres of ancient woodland is being lost across the entire Phase One route, with over 33 square kilometres of new woodland and wildlife habitats being created as part of our plan to create a Green Corridor of richer, more diverse and better-connected landscapes along the railway."