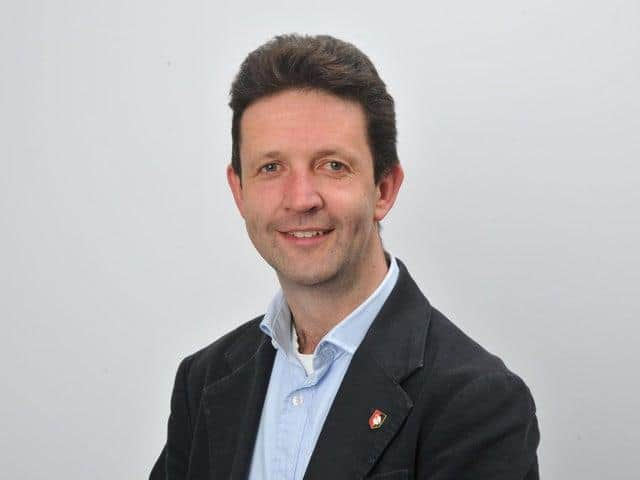 Gareth Williams, Buckinghamshire County Cabinet Member for Public Health and Community Engagement
The Bucks Herald spoke to Gareth Williams, Buckinghamshire County Cabinet Member for Public Health and Community Engagement about the situation on the ground across Aylesbury Vale.
Mr Williams highlighted the increase of positive tests and the skyrocketing infection rates around Buckinghamshire over the past two weeks.
He said: "The main item of concern is the infection rate, which is 4x higher than what it was two weeks ago.
"Increasingly it's starting to look like we've got community transmission across Buckinghamshire.
"We are still comparatively low, 87 cases per 100,000 - if we can compare Nottinghamshire, which has the unfortunate title of being the highest transmission rate with 972 per 100,000, we're not doing too badly.
"However, it is so, so important we do not get complacent."
Community transmission is when infections within a population are not imported from another virus-hit area.
The council has now started a campaign of information, sending out letters to businesses, flyers, posters, and leading a social media drive to ensure everybody knows what they can to to help stem the tide of infections.
"The main thing is we all stick to the mantra of: hands, face and space.
"I saw a statistic last week that said 1 in 5 people across the UK aren't isolating after being contacted by the test and trace service.
"We all really need to pull together now - if you are contacted by test and trace or get a notification via the app - you must self isolate.
"You must also not break the rule of 6."
The "rule of six" simplifies and strengthens the rules on social gatherings, making them easier to understand and easier for the police to enforce.
It means that – apart from a set of limited exemptions including work and education – any social gatherings of more than six people will be against the law.
Police will be able to disperse any such gatherings and fine individuals involved £100, doubling up to a maximum of £3,200.
Mr Williams said that sacrifices will all have to be made to help curtail the virus, including curtailing national holidays and celebrations.
He said: "Unfortunately to help avoid being placed into a 'high risk' zone, we will all have to make sacrifices.
"This means we will now NOT be allowing big fireworks parties or halloween parties.
"Please, do not plan any of these parties. They can be a huge opportunity for the virus to infect many people who are all together in one place.
"Unfortunately we have also had to cancel the usual remembrance day ceremonies too.
"I know this is a big statement, but given the cohort of older vulnerable veterans we just can't have huge marches and bands.
"We are encouraging people to pay their respects privately at home.
"It's a terrible shame but we must protect the most vulnerable."
The 10pm curfew is currently wreaking havoc on the hospitality industry across Aylesbury.
However, if we move into a high risk coronavirus area, the chances are things will become even more devastating for the local hospitality industry.
If Aylesbury Vale is moved to a high risk zone, then households will no longer be able to mix indoors.
Pubs and restaurants will continue to stay open, but households can no longer mix.
We asked Mr Williams what would happen if Aylesbury moved from the medium risk into the high risk category.
"We will have to start looking at local lockdowns.
"This is difficult, because they have varied across the UK as to what constitutes local.
"London, for instance, has gone into a city wide lockdown. However other cities have done things by ward.
"If we move into a local lockdown, we move to the rule of 6 outdoors - but indoors, you're only allowed to be with members from one household.
"Retail, youth clubs and places of worships can stay open.
"Restaurants and pubs can stay open, but they will no longer be able to serve people from different households."
Mr Williams conceded that this would be a nightmare for pubs trying to enforce it, however said he relied on trust of the general public.
"It's going to be very difficult. However, the police will have enforcement powers to check people's IDs and give out fines if people are found to be transgressing these rules.
"The police will be using the four E's first, however."
The four E's are a police principle based on evidence that people are more likely to comply after a police encounter if they feel they have been treated fairly, have received an explanation, and have been given the opportunity to give their view.
These are: Engage, Explain and Encourage. If these fail they enforce the law.
Mr Williams continued: "We are starting to see a shift in the demographics of people who are contracting coronavirus.
"Initially, transmission was very high in under 30s, likely because of the return of students to the universities and children to schools.
"However now, we're seeing rises in people above 50 and 60+, and this is where the danger occurs.
"People need to take care as the weather gets colder, to not break the rule of six when meeting in doors and to maintain social distancing.
"Transmission is much more likely to occur in doors.
"We're not encouraging people not to meet people from other households indoors as there is a higher risk."
One of the main concerns is that since the 10pm curfews have been established at pubs, people are simply buying alcohol and continuing a party back at someone's house instead.
The council have pleaded with the public not to do this.
They said yesterday: "Please don't just buy alcohol from an off licence or supermarket and take friends home to carry on socialising, unless you are following the rule of six and socially distancing."
"The four times increase in infection rates is enough for anybody to be worrying.
"Perhaps people have got bored of the rules but this should be a wake up call for us all.
"While rates remain low comparatively in Aylesbury Vale and Buckinghamshire, and this is not by any means a crisis point - we want to stat at medium risk to avoid further sanctions.
"Please, please do your bit."