Religious leaders in Bucks condemn countywide rise in hate crimes after Israel-Hamas conflict escalated
"I have had to report more incidents of antisemitism and hate in those two or three weeks than I have in my three years working for the community," one leader said
Watch more of our videos on Shots! 
and live on Freeview channel 276
Visit Shots! now
Buckinghamshire's faith leaders have called for unity amid tensions in the county over the "horrors" of the Israel-Hamas conflict.
In a joint statement read out at Buckinghamshire Council in Aylesbury, faith leaders called on Bucks residents to "speak out against every form of hate" and said they "share our prayers for an ultimate end to war."
Their message comes after huge rises in antisemitism and islamophobia in Buckinghamshire since 7 October when Hamas militants crossed into Israel, massacred citizens and soldiers, and took hostages.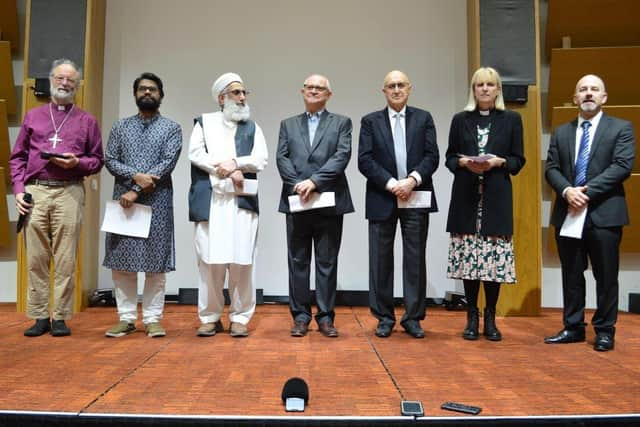 Since the Hamas attack, and subsequent Israeli air strikes on Gaza, almost 6,500 people have been killed in Gaza, and more than 1,400 in Israel.
Sharing the stage were Rabbi Neil James, Imam Abdul Dayan, the Reverend Dr Alan Watson, Bishop of Buckingham, Reverend Canon Rosie Harper chaplain to the Bishop of Buckingham, Kevin Piper clerk of trustees for the Chiltern Area Quaker Meeting, Muthu Mardawan, president of the Aylesbury Hindu Temple Trust, and Gerald Knight, Vale of Aylesbury Bahá'ís.
They said: "It is wrong that the Jewish community here has been the target of hate crimes. It is unacceptable that there has been a more than five-fold rise in antisemitism.
"It is wrong that the Muslim community here has been the target of hate crimes and Islamophobia. It is unacceptable for any Muslim to be targeted. We condemn all these attacks.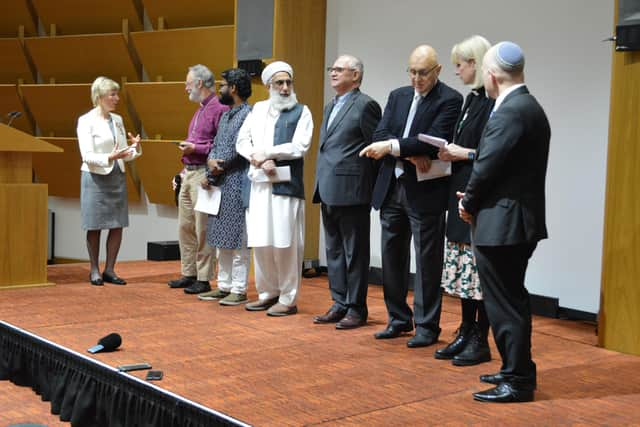 "And including attacks against Hindus, targeted with Hinduphobia, and we call on all fellow citizens to stand up and speak out against every form of hate."
The faith leaders embraced one another after their joint statement, which was introduced by the Countess Howe, His Majesty's Lord-Lieutenant of Buckinghamshire.
Rabbi Neil James told the BBC Local Democracy Reporting Service (LDRS) that the rise in antisemitism is likely to be higher than five-fold.
He said: "Since 7 October when the Hamas attack first took place, I have had to report more incidents of antisemitism and hate in those two or three weeks than I have in my three years working for the community."
The Rabbi explained that there was a "great anxiety, fear and sadness" among some Buckinghamshire residents, some of whom have family caught up in the Middle East conflict.
He added: "I understand from counterparts in the Muslim community that the same is being experienced in schools, workplaces and on the streets.
"We are concerned, we need to do something together and that is why are gathered here today."
Revd Canon Rosie Harper told the LDRS that faith leaders were "stunned" by the outbreak of the conflict and wanted to come together for a "peaceful" message to combat a rise in hate crime.
She said: "You see a Jew and a Muslim person standing on the same platform talking about the same fundamental human values. That is really important."
Latest reports from Israel show that tanks moved into Garza as part of a targeted overnight raid.