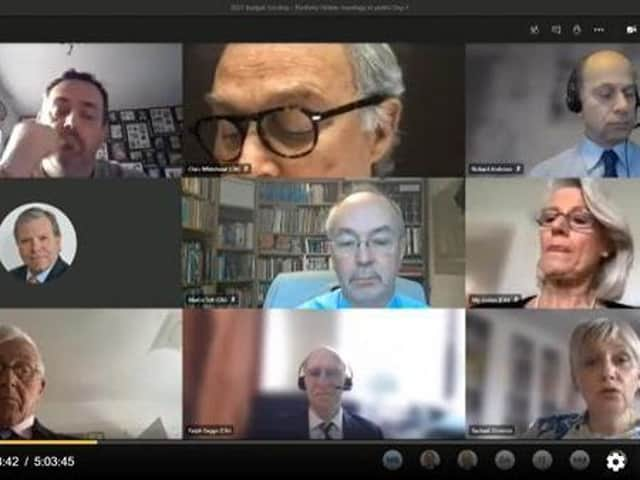 Bucks Council leader admits 'we have too many members all receiving full allowances'
A member of the public challenged Buckinghamshire Council leader Cllr Martin Tett to pare back an 'excessive' number of paid council members – or else insist other councillors accept a cut in pay to balance the books.
The matter was raised during a Budget Scrutiny Select Committee Inquiry, on Monday, January 11.
Buckinghamshire Council currently has 202 councillors receiving full allowances, according to Cllr Tett.
However, he admitted a business case for just 89 was outlined ahead of the formation of the new unitary council in April 2020.
And owing to a government directive, and because elections were effectively cancelled in May 2020, the council has since been running with a surplus of paid members.
The council also has a 17-person cabinet, rather than ten.
"We currently have more unitary councillors than we should, resulting from the postponement of elections in May 2020," wrote a Mr Kirkland. "These excess councillors continue to receive their payments.
"With the likely further postponement of elections in May 2021, will the council guarantee the number of councillors be reduced to the correct number, thus the corresponding saving in payments?
"If not – why not? If not, will all councillors take a cut in their payments so that the total does not exceed the total for the correct number of councillors?"
In response, Cllr Tett said he 'completely agreed' with Mr Kirkland.
Adding: "I think we have far too many councillors, candidly. The business case that I helped craft put forward the proposition that we can run the new [unitary] council with 89 members.
"The government made a decision…to support a different proposition to have 147 members, very clearly for the first term only."
The council is running at 202 members, which Cllr Tett said "some attrition" had reduced to 195. Adding: "But they're all still claiming, obviously, and quite entitled to, full allowances."
Cllr Tett also said he thought "rates for the job are right". Adding: "Backbenchers have got a significant job to do and I think those rates reflect that responsibility.
"I personally wouldn't want to see those rates reduced, but I do think we need to rationalise a number of members.
"A May election would do that – it would reduce from 202 to 147. Hopefully at the end of four years we see that go down again."
Council chief executive Rachael Shimmin added: "The council doesn't have the ability to unilaterally decide, that should the elections be postponed we will have less elected members.
"So, when the elections were delayed, there was a statutory piece of work done involving central government which determined that Buckinghamshire, because of its unique circumstances around the timing of the new unitary council coinciding with the pandemic, carried forward the arrangements it had pre-unitary council in terms of the number of members, and the number of people on the Cabinet."