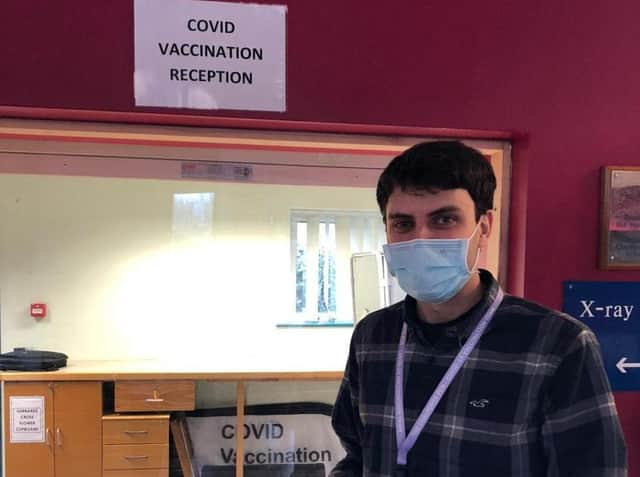 Graduate David Blackburne
Fast forward 18 months and the 23-year-old from Beaconsfield is now one of a small army of volunteers helping to ensure the Covid-19 vaccination rollout programme runs smoothly across Buckinghamshire.
David has been volunteering at Chalfont Community Hospital since early January. He is one of a number of volunteers helping at the GP-led vaccine hub being run by the Chalfont Primary Care Network (PCN).
Music graduate David has thrown himself into the work, keen to do his bit and to keep busy. After being furloughed from his job in the hospitality sector back in March 2020, David has sought any opportunity to help out. Speaking to one of his neighbours he found out about the opportunity to help and has been volunteering at the vaccine clinics two or three times a week.
Along with the other volunteers David's role involved helping with the vaccine preparations before patients arrive, sorting out the paperwork and forms for each patient, meeting and greeting them as they arrive and generally helping them with any support needed. With busy clinics seeing up to 700 patients a day, the work of the volunteers is vital to ensuring the whole operation runs smoothly.
David explained: "I've really enjoyed helping out. I've been on furlough for so long it's nice to get back out speaking to people and helping them. Working in a hotel is a very sociable job. I speak to lots of people every day and get a real buzz out of it so it's great to be back doing something that involves talking to people."
He continued: "Some of the older people who come in say they haven't left the house since March so they are a bit nervous but I do my best to help them relax and keep them entertained while they wait. They are also excited to be getting the vaccine. I've really enjoyed being part of this whole thing, it feels really meaningful."
David has impressed his colleagues so much with his attitude that he has landed himself a part time administrator job at The Hall Practice, one of the GP surgeries in the PCN. Ruth Franklin, managing partner at The Hall Practice said: "David and all the other volunteers we have working with us have been an absolute delight to have on board. They have all been so enthusiastic and willing to take on any task that is asked of them. Without a doubt they have helped to ensure everything has run smoothly and have been a true asset to our team."
Dr Raj Bajwa, Chair of NHS Buckinghamshire Clinical Commissioning Group, said: "The role that volunteers have played in the vaccination rollout cannot be underestimated. People like David have been absolutely key to making sure Buckinghamshire's vaccination sites have run so successfully. They have offered tremendous support to our GPs and, most importantly, to our patients as they arrive on-site to get their vaccine. I'm sure my GP colleagues across Buckinghamshire would join me in thanking all our volunteers for their invaluable work."
The work of volunteers supporting the vaccine rollout programme is another example of the way many people have stepped up to do their bit to support others during the pandemic. Find out more by visiting our #ProudofBucks blog.
To find out more about volunteering during the pandemic visit the Community Impact Bucks website.