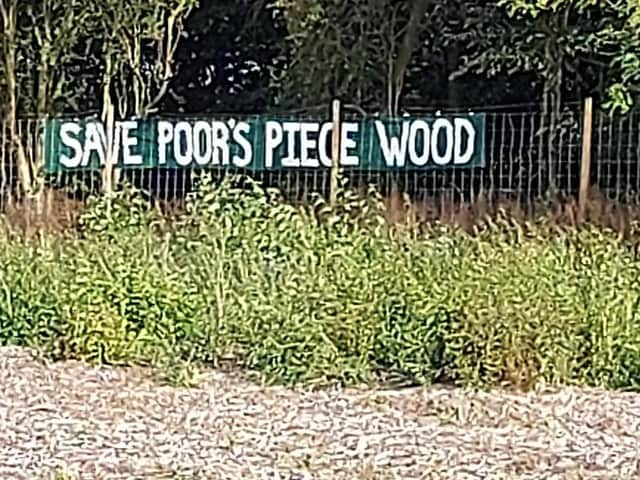 Poor's Piece Wood
This will run along the southern edge of our Infrastructure Maintenance Depot at Calvert.
HS2 said: "In order to simplify the works and reduce disruption for nearby residents, the East-West earthworks and bridges in this area will be delivered by HS2, at the same time as our main civil engineering work.
"We are working hard to reduce the impact of construction on the natural environment.
"We have reduced the amount of woodland that needs to be cleared at Poors Piece by 30% over the last year by moving a pedestrian public right of way bridge that was previously planned for this location.
"The work is being done now before the start of the bird nesting season.
"Initial ecology surveys were carried out last year and more will be completed once the site is secure."
However, protesters at the site are currently locked in 'treehouses and towers' in the three acre ancient woodland, in an act of 'non-violent direct action'.
They said they were 'absolutely determined to protect the wood for future generations'.
The protesters are calling for HS2 to be scrapped and the money diverted to the NHS to help tackle the pandemic and reward hard working staff.
A statement from the protesters said: "The director of HS2 earns around £600,000 per annum while NHS key workers work under incredible pressure for low incomes, and hundreds have
died after contracting covid.
"Meanwhile, NET bailiffs and HS2 security and construction workers continue to work, in many cases without wearing masks or observing social distancing rules."
We reported on protesters concerns last month as they said 'they feared imminent eviction'.
Lupo, a resident of the Steeple Claydon Camp, and former inhabitant of the nearby camp at Calvert Jubilee Nature Reserve which was evicted on 22 September last year, said: "More than £100 billion is being spent on HS2 whilst frontline health workers are using food banks and risking their lives to save us.
"A ridiculous amount of money when more jobs have been lost due to lockdown than HS2 will ever provide."
Local resident, campaigner and camp supporter Lindsey Batham, who has herself been involved in successful direct action against HS2, said: "Seeing swarms of orange clad workers invade our area and treat us with such disrespect during the covid pandemic is something that will haunt me long after most of them have gone, leaving behind an Infrastructure Maintenance Depot for a railway that no one wants.
"We have lost so many ancient trees, hedgerows and beautiful wildlife for nothing."
Poor's Piece Wood is a wildlife haven which provides a home to eight protected red list bird species.
A recent survey shows at least five species of bat present along with Red, Fallow and Muntjac deer. It was managed as a semi natural woodland from the middle of the 1500's and provided fuel for inhabitants of the then hamlet of Steeple Claydon.
An HS2 Ltd spokesperson said:
"These activists are trespassing on land that is legally owned by HS2.
"The illegal and irresponsible actions of the activists put our staff at risk and place unnecessary strain on the emergency services during the pandemic.
"The construction of HS2 is playing a vital role in Britain's economic recovery from Covid-19, with over 15,000 people already working on the project and tens of thousands of additional jobs supported through our supply chain.
"We urge everyone who cares about our natural environment to support a project that is providing work across the UK today, and in the future will get people out of cars, off planes and onto low carbon rail travel."