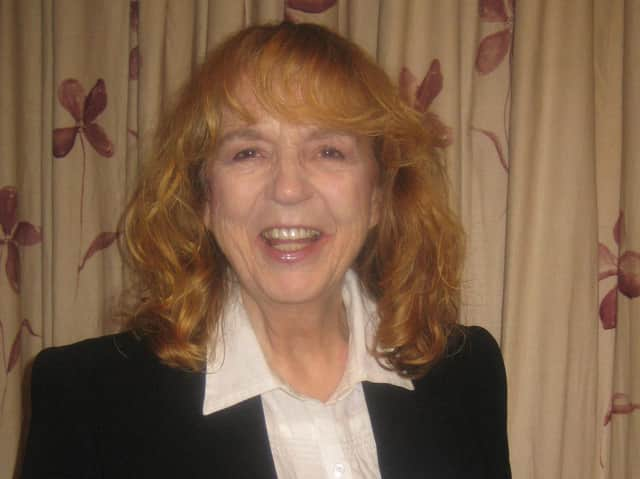 Dinah Latham
Dinah Latham's deeply honest memoir, Walking Forward, Looking Back, struck a chord with health care workers across the country after its release in 2014.
And it remains on the recommended reading list for all trainee district nurses, as well as continuing to bring in regular invitations for delivering talks.
Dinah, who lives in Amersham, has followed up on her initial writing success with the sequel, Sheepless Nights.
The happiest dog in the world!
Rather than nostalgically looking back at her decades of community nursing and midwifery, she has humorously stepped forward with optimism into her latest chapter of retirement and herding sheep.
The mum-of-four has revealed that it was during one of her uneventful dog-walks that she decided to pick up the pen for the first time.
Dinah explained: "As I had time alone meandering and thinking while developing my dog walking skills, I found myself reflecting on the district nursing career I had left.
"I was deeply saddened by what I had considered to be a real deterioration in the care that was now on offer to patients in their own homes.
"It was an unremarkable day, but one that turned out to be truly unforgettable.
"When I returned from that long thoughtful walk and as I found myself tearful, with all the thoughts about what I believe we have left behind in a better time in nursing, I removed the lead as we entered the safety of home.
"And I started to write, a sort of cathartic diary account of the walks my Bearded Collie and I take, and where the wonders of our sojourns each day ran into memories of my district nursing times.
"This is where my writing started what eventually formed the foundation of my first book Walking Forward, Looking Back."
Like her first book, Dinah's follow-up Sheepless Nights has already reached the top of Amazon's charts and been met with a string of five-star reviews.
The delightful account of getting to know her very first pet-dog, and learning to herd sheep with her, while finding her place in the world as a pensioner has been described as 'astonishingly good', 'highly entertaining' and 'a charming book'.
Dinah added: "Sheepless Nights is in a way a follow on from my previous book, with the thread being my dog Harriet, and it takes the reader from my career into my retired life.
"Sheepherding is something I've discovered a passion for - a passion alongside needing to somehow prove my worth as a retiree in a community that sees us as insignificant.
"More than that, I hope Sheepless Nights says something about looking forward to the different path that's possible in retirement - it maybe the end of something but definitely it can be the beginning of something else, rather than simply a journey into old age."
Since the release of Sheepless Nights it has gone to number one in Amazon's Aging chart as well as the top of the Animal Care list.
For more details, visit Amazon and search for Dinah Latham, where the paperback and Kindle formats of Sheepless Nights are both available.