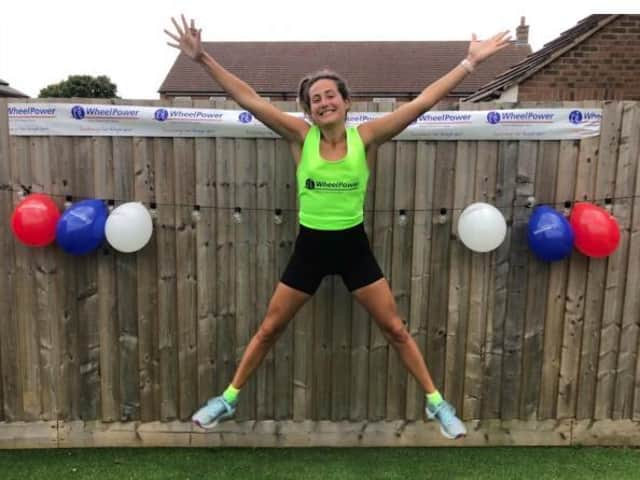 At 6am on August 28th 2020, Emma began her challenge for WheelPower.
The 4/4/48 Challenge require her to run 4 miles, every 4 hours, for 48 hours! The total distance of 48
miles is equivalent to two marathons in the space of a 2 day period and will mean that Emma will also have to run through the night.
"This challenge is going to push me to my limits and is by far the most challenging event I have ever done. I will be saying goodbye to any sleep! In terms of what's going to get me
through, hopefully lots of naps, and ultimately, I know that wearing my WheelPower vest and reminding myself mentally what I'm really doing this for will push me to that finish line."
Emma grew up in Thailand and is half Argentinian and half English. In 2014 she moved to the UK to study International Media and Communications with French at the University of
After graduating in 2018 she now works within the Unilever team for a leading global PR agency and lives in Aylesbury with her boyfriend.
This won't be the first challenge Emma has taken on, having ran 100km in 5 days recently and taken part in 5 marathons including Barcelona, as well as multiple half marathons in the
past. She is big into her fitness and loves sport, especially swimming and cycling, and hopes to take on a few triathlons in the future.
We asked Emma why she chose this particular challenge and why she chose to run for WheelPower: "I actually saw this 4/4/48 challenge on Instagram, rugby player Lewis Robling
was documenting his journey running it and I just thought it sounded like such a cool challenge to do that would get me out of my comfort zone.
"The challenge itself is of physical and mental strength designed by David Goggins, a retired Navy SEAL and an accomplished endurance athlete that has the reputation of being one of the toughest men on the planet."
"As a huge lover of sport, I have chosen to support WheelPower. I love what the charity stands for and I think it's important for people to be involved in sport for life. I have a lot of
respect for people who have experienced life changing events and still have the drive and determination to constantly better themselves - it's a huge inspiration to me.
"I think that sport and physical activity is important for absolutely everyone because I know first hand just how amazing the benefits of movement are for your mental and physical health. I would love to inspire, motivate and help towards seeing more disabled people getting active and enjoying sport."
As Emma started her challenge at 6am on Friday August 28th 2020 she began the first of her twelve 4 mile runs that would take her through the night towards the finish line on Sunday
morning at 2am! With the motivational support of her friends she began well and made sure she rested and recuperated as much as possible between each run.
Unfortunately, the unseasonal cold and wet British Summer caused her to move to the treadmill for two of her afternoon shifts as as the rain fell on Aylesbury!
As Emma explains, "I found the lack of sleep was much harder than I expected and it was tough late at night and early in the morning when it was awfully windy and rainy but doing
this for WheelPower got me out there anyway feeling motivated.
My adrenaline was keeping me energised and wide awake when I wanted to sleep! I got only 4 hours sleep in the whole 48 hours which was a surprise as I thought I would've been able to sleep more."
As she ticked off each run and documented her challenge over Instagram she got closer to the finish and at 2am on Sunday she completed her challenge successfully surrounded by her friends, who instantly passed her a bottle of champagne to mark the special moment!
"I found the challenge to be amazing and I'm so proud for not only choosing to do it, but for completing it feeling strong and with a huge smile on my face. I already knew that mental
strength is vital in sport, particularly in endurance events but I don't think I knew just how much keeping a positive mindset and just smiling whilst running would help me get through the challenge."
"I was extremely overwhelmed with the support that so many people showed me in terms of donations, good luck messages and even running/walking/cycling with me in person, and
virtually. Without that support, this challenge would have been SO much harder. It's amazing to see everyone come together to help raise money for such a deserving charity. I
want to thank each and every person that supported me throughout the weekend - I could not have completed the challenge without it!"
At WheelPower we are very grateful to people like Emma who take on a fundraising challenge for our charity, and this is even more important in 2020 when our regular events
have been cancelled due to Covid-19.
The postponement and/or cancellation of these events has left a huge shortfall in our income so individual challenges such as this will make a huge difference to WheelPower at this time.
Finally, we would just like to say thank you Emma and to everyone who supported her to the finish, donating over £2,500 along the
way. The money raised will support disabled people throughout the UK to access new opportunities for sport and physical activity during these unprecedented times.
Although the challenge is complete you can still sponsor Emma and leave her a comment on her fundraising page https://www.justgiving.com/fundraising/emma-naomi-nicholson