Light and Reflections
Join Aylesbury's art enthusiasts and seekers of authentic, personal art experiences as they discover Wolfango's narrative at the Queens Park Arts Centre, an event sure to captivate and resonate with those who appreciate the art of storytelling through canvases.
Watch more of our videos on Shots! 
and live on Freeview channel 276
Visit Shots! now
Local artist Wolfango is set to make a mark in the Aylesbury art scene with his much-anticipated exhibition, "Light and Reflections," to be showcased at the Queens Park Arts Centre from 13 November to 1 December 2023.
This unique exhibition promises to be more than just a traditional art display. "Light and Reflections" offers an intimate look into Wolfango's journey through the interplay of light, life, and artistic expression. Each brushstroke and nuanced hue reflects the artist's life experiences, exploring the delicate balance between moments of light and shadow.
Wolfango's collection serves as an introspective exploration into the artist's heart and mind. Visitors can expect to be transported into a world where the absence or presence of light serves as a metaphor for the triumphs and trials encountered on the artistic path.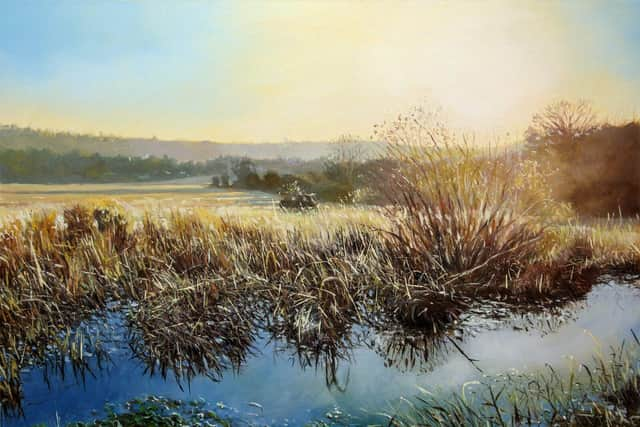 The artist invites the local community to join him on this meaningful journey through art. The exhibition promises an intimate and emotive experience, offering a unique narrative through the language of colours and reflections.
"Light and Reflections" is more than an exhibition; it's an invitation to partake in a personal voyage. Aylesbury art enthusiasts and those seeking an authentic and deeply personal artistic encounter are encouraged to visit the Queens Park Arts Centre and witness this captivating showcase.
The event opens on the 13th of November and continues until the 1st of December, providing ample time for art lovers to immerse themselves in Wolfango's world of 'Light and Reflections'.
For further information and specific timings, please visit Wolfango's website at wolfango.com or directly visit the Queens Park Arts Centre in Aylesbury.
Don't miss this evocative exhibition, as Wolfango unveils his soul on canvas at the Queens Park Arts Centre.